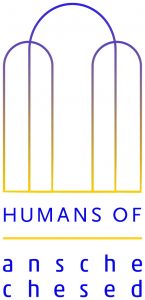 Do you have a story of:
A time that you were honored for the work you do?
A time you planted a tree, worked the soil, or tended a garden?
A special Purim story, or time you had to hide who you were?
A moment in your life when you just had to dance?
During our year-long Humans of Ansche Chesed programming, we hope to compile a database of the stories that compose who we are as a community. In just a few minutes of audio (we don't need more than 3 or 5 minutes!), we would love to hear a story about YOU. No matter how silly or serious, how unique or mundane, we want to hear YOUR story. It can be about an experience at Ansche Chesed, or it can have nothing to do with Ansche Chesed at all. As long as it's YOUR story.
You need not have any experience with storytelling or memoir writing to take part in this wonderful experience as part of our community. You just need to tell your story from your heart. If you need help thinking of a story that might work for you, email us, and we will help you brainstorm!
This venture will enable us to build a legacy for our community, as well as one for your individual families.
We hope that you will consider telling your Humans of Ansche Chesed story.
eMail Darone Ruskay to schedule a time to record your story