Scribblers on the Roof
Mon, July 16, 2018 at 8:00 pm

–

10:00 pm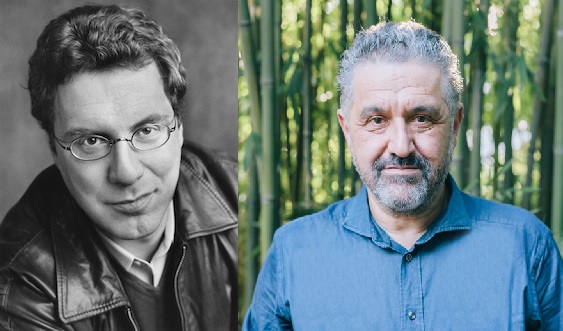 Monday evenings in the summer, from 8 to 10pm. $5 suggested contribution.
Join us on the Ansche Chesed roof to hear emerging and established Jewish writers read from their recent work. Beverages and books are available for purchase. If it rains, come anyway. We have a perfect indoor space.
JEREMY DAUBER, Jewish Comedy: A Serious History
(https://amzn.to/2kBbcUy)
Finalist for the National Jewish Book Award
A rich account of Jewish humor: its nature, its development, and its vital role throughout history.
In a major work of scholarship both erudite and very funny, Columbia professor Jeremy Dauber traces the origins of Jewish comedy and its development from biblical times to the age of Twitter. Organizing the product of Jews' comic imagination over continents and centuries into what he calls the seven strands of Jewish comedy―including the satirical, the witty, and the vulgar―he traces the ways Jewish comedy has mirrored, and sometimes even shaped, the course of Jewish history. Persecution, cultural assimilation, religious revival, diaspora, Zionism―all of these, and more, were grist for the Jewish comic mill; and Dauber's book takes readers on the tour of the funny side of some very serious business. (And vice versa.)
PAUL GOLDBERG, The Château
(https://amzn.to/2ITxKOW)
Paul Goldberg, the acclaimed author of The Yid, takes us behind the scenes of a Florida condo board election, delivering a wild spin on Miami Beach, petty crime, Jewish identity, and life in Trump's America.
It is January 2017 and Bill has hit rock bottom. Yesterday, he was William M. Katzenelenbogen, successful science reporter at The Washington Post. But things have taken a turn. Fired from his job, aimless, with exactly $1,219.37 in his checking account, he learns that his college roommate, a plastic surgeon known far and wide as the "Butt God of Miami Beach," has fallen to his death under salacious circumstances. With nothing to lose, Bill boards a flight for Florida's Gold Coast, ready to begin his own investigation―a last ditch attempt to revive his career.
Save the Dates for the rest of this year's lineup:
June 18 with Sally Koslow and Allan Appel
June 25 with Joshua Max Feldman and Sam Graham-Felsen
July 2 with Rebekah Frumkin and Jenna Blum
July 9 with Eileen Pollack and Dara Horn
July 23 with Robert Anthony Siegel and Kenneth Bonert
July 30 with Laura Esther Wolfson and Hilary Zaid
August 6 with Cherise Wolas and Dawn Raffel